The Friends of McKay Gardens had a lot of fun manning our stall at the Sunshine Festival on 23 March.
The festival is getting bigger and better every year and lots of people stopped by our tent to look through the photos, have a chat, grab some freebies and join up. Several enjoyed pointing out the irony that Regional Rail Link (RRL) were in the tent next door.
Lots of people wanted to double-check that the Gardens are safe – they knew about the protests against RRL last year but not always the outcome. It was great to tell them that after community lobbying last year:
the amount of land to be reclaimed reduced from 176m2 to 5m2
the restored historic gates will not be moved
electricity power lines are currently being placed underground to avoid removal of trees
the Friends have input into the design of the replacement footbridge (across the rail lines)
a second new footbridge will be built across to the gardens from King Edward Ave.
These were great outcomes and everyone who signed a petition, held a placard or wrote a letter should be very proud.
We not only had a stall at the Sunshine Festival – members Russell and Melinda Mockridge entered their gorgeously restore 1948 MG TC car in the parade on behalf of the Friends  – see the photos below for their sensational decoration efforts.
Thanks to the dozens of people who joined up on the day and to everyone who stopped in to share their story about the Gardens and what they mean to them.
Here's some shots of the Friends at the Festival. Can you spot the typo in the council provided banner for the parade?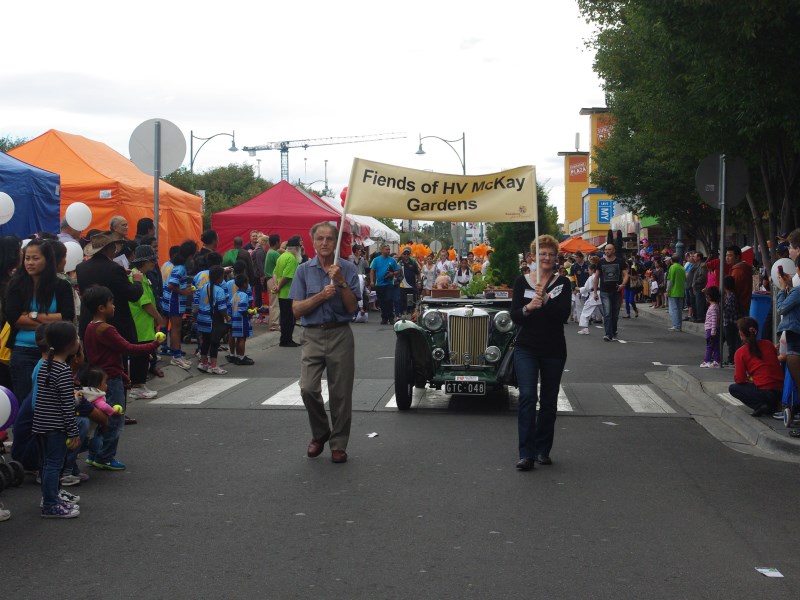 Bruce and Melinda as flag bearers
RRL staff watching the parade