In July 2012, the Regional Rail Link held a community information session at the Sunshine campus of Victoria Uni.
At that meeting, an information sheet about "Managing impacts on the HV McKay Memorial Gardens" was provided and can also be viewed online.
Verbal advice provided at the community info session is detailed in the following picture: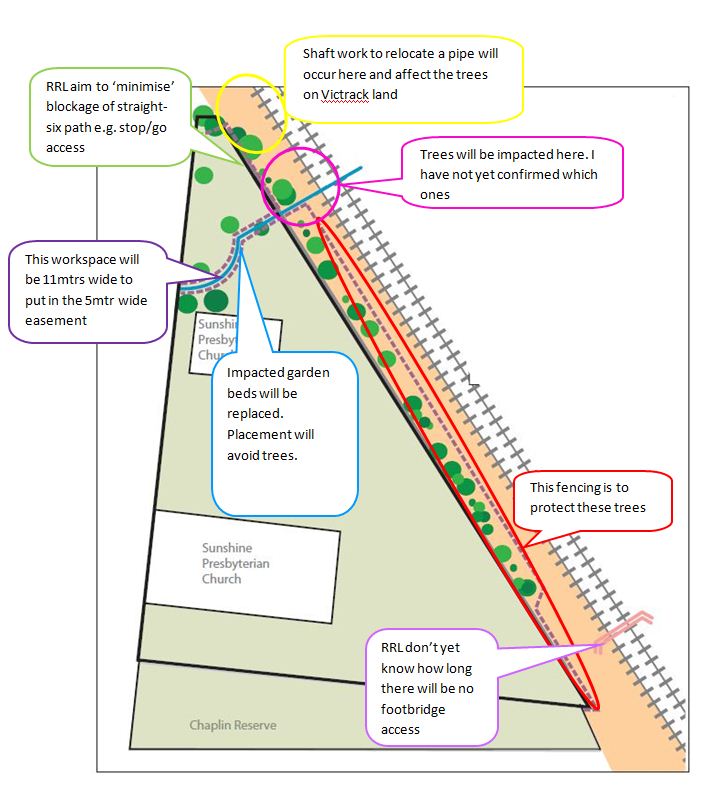 To date, the Friends have not received specific details as to the impacts on the Gardens or specific trees.
At 4:49pm on Friday 10 August 2012, RRL provided the following advice:
Hope this email finds you all well.
I just wanted to let you know that the Footscray – Deer Park project team will be working in the rail corridor this weekend in an area adjacent to the HV McKay Gardens.
The works will be performed on VicTrack land and will occur behind temporary fencing to ensure the garden and trees are protected.
Over this weekend the team will undertake work to construct the temporary access track on this area of land. The attached plan shows the general location of temporary fencing, the footpath and access road required to enable access from Anderson Road and to the rail corridor for the purposes of the project.
The temporary fencing is to occur outside of the tree drip line with an adjacent footpath and access track.
Measures will be taken to ensure the trees and gardens are protected.
Please let me know if you need any further information.
And just a quick update on the design of HV McKay footbridge. The team have not had the resources as yet to incorporate this group's suggestions into the design. The team still intends to do this, and we will arrange a meeting as soon as we have more detail to share with you all.
Stakeholder Relations and Communications Manager