While many of us know the story of how Hugh Victor McKay commissioned the gardens for the recreational use of his workers in 1909, less is shared about the many gardeners employed over the years to care for, plan, maintain and improve the Gardens.
James Willan
Curator 1930-39
James Willan was born on 25 Jul 1870 in Kirkby-Lancaster, Westmorland, England to Elizabeth Lancaster and John Willan. James was still living there when he married Elizabeth Ann Hodgson on 7 Sep 1892 .
While no dates are available, there are records of James working as a gardener for 10 years at the Army and Navy School in Wales. He was subsequently shown to have undertaken all the private gardening at Llay Place – an estate in Gresford, Wales with a stately country home, greenhouses, woodland, summerhouse, kitchen garden, pond, orchard, conservatory and pinery.
In 1912 James, Elizabeth and their 8 children set sail on the Irishman for Australia, sadly losing their youngest child, Eric, to measles during the journey.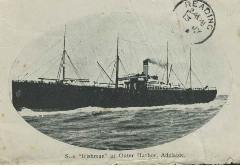 When they landed James got to work growing fruit for 5 years before returning to formal gardening when employed by Samuel McCulloch to look after the 70 acres of parklands and gardens that made up the family's estate, Woodlands, near Stawell.
After a stint running his own business in Avoca (a butchery!), James was appointed as the curator (head gardener) at the 'Sunshine Gardens' in 1930.
He had a staff of 4-5 men at any given time and over his ten-year tenure they created beautiful floral displays in the Gardens, and also maintained hundreds and hundreds of potted plants that could be hired out for a very small price. His chrysanthemums, dahlias, roses and other flowers won many prizes at horticultural events held in Sunshine, the Melbourne Town Hall and throughout the State.
An article in the Sunshine Advocate in 1934 noted "The blooms at present in flower beggar description… Mr. Willan and his staff have excelled themselves. Chrysanthemums, in some instances ten inches across, are blended in magnificent colourings—and the beautiful border plants, combined with the green carpet like lawn, make an entrancing scene."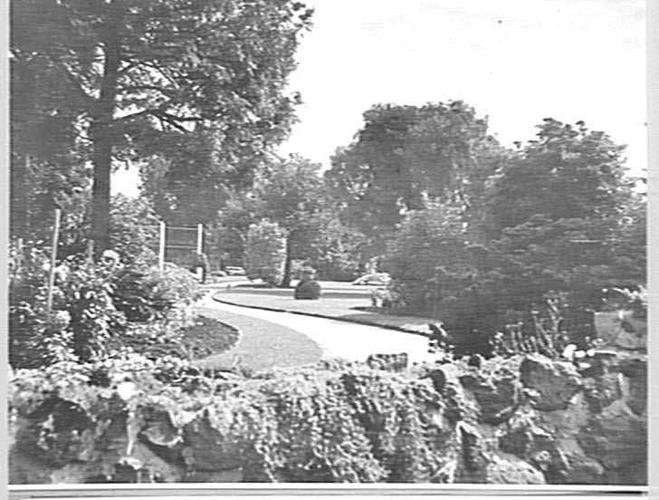 Aside from overseeing the Gardens, James became an active member of the community, joining the Sunshine Progress Association and serving as its President for 6 years. He was also a prominent figure in local church circles, associated with the Sunshine Methodist Church as a lay preacher.
James came to the rescue in 1933 when the Lady President of the Shire of Braybrook held a reception at Sunshine Town Hall for 350 ladies and the shire gardener, Mr Barlier, became 'indisposed'. James Willan 'practically denuded' the Sunshine Gardens of its pot plants and foliage to create an indoor garden for the event.
The Sunshine Advocate wrote "… All the ingenuity of master crafts-men in floral design had been used to decorate the hall. In the foyer tiers of pot plants met the eye, and the entrance to the hall was through an archway daintily arranged with all the flowers that bloom in the spring. Suspended from the ceiling were baskets of clustered roses, and one might well say 'Thank God for a garden.' …The floor in front of the stage and also the stage itself were bedecked with tiers of plants of all varieties and hues. With music being dispensed from such surroundings, and the aroma of flowers reminded one of what a fairyland might be".

James retired after the winter of 1940 at the age of 70. While a newspaper article about his retirement mentioned a plan to move to a new home built in Chelsea, James and his second wife, Eliza continue to appear on electoral roles living at 8 Kororoit Street in what is now Albion.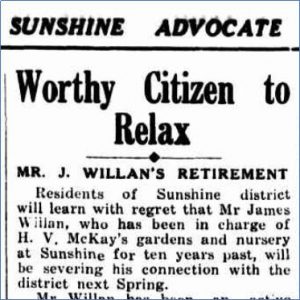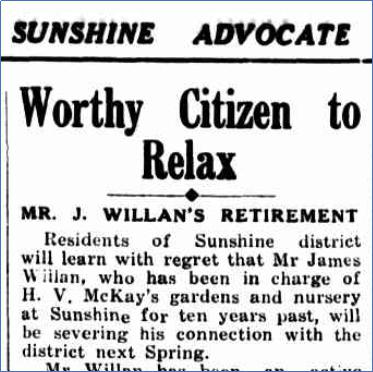 James died on 2 Jan 1955 and is buried in Footscray Cemetery, in what is now Yarraville.
Sources:
Victorian City Directory 1933; Page 729; via Ancestry.com.au
Sunshine Advocate; Fri 11 May 1934; Page 1; The Gardens a Fairyland by C.G.Carlton
Victoria, Australia, Assisted and Unassisted Passenger Lists; British; 1912; Irishman; via Ancestry.com.au (Irishman)
Coflein – National Monuments Record of Wales; LLAY PLACE, GARDEN, LLAY
Victorian Heritage Database; Woodlands, 233 Woodlands Road, CROWLANDS (Stawell)
Sunshine Advocate; Fri 7 Jun 1940; Page 7; Worthy Citizen to Retire
Sunshine Advocate; Fri 1 Dec 1933; Page 1; First Reception in Shire by Lady President a Great Success
Cemetery Records and Headstone Transcriptions, 1844-1997; Footscray Cemetery 1860-1997